<!background="../images/whttxtr2.jpg">

Automatically download files from the internet or your intranet at pre-programmed times. The files can be renamed according to the time and/or date so the old files wont be overwritten.

Autoget was originally developed for downloading weather satellite images. By renaming the files with a timestamp, a series could be built showing the progression of the weather.

It has since been enhanced to be able to execute a command after the download completes. This is used to execute a perl script that extracts weather data from current condition files and appends it to files for logging specific weather conditions. The post-download command can be any command you might type at a command prompt, including program names with arguments.

One more capability was added to accept a command line argument. This allows other programs to use Autoget to download files for automatic processing. By using Autoget and GUIPlot together, one can monitor system log files or other process data by downloading the files and displaying them graphically.

After simple configuration, Autoget can make a dialup connection at pre-programmed times, download the specified files, then hang up the dialup connection and execute the post-download commands.

The image below shows the window where download entries are configured. Any number of entries may be configured and will be downloaded independently. The sub-URL feature allows downloading images or linked files from web pages. A help file is included, but the program is very intuitive, and technical assistance is available via e-mail.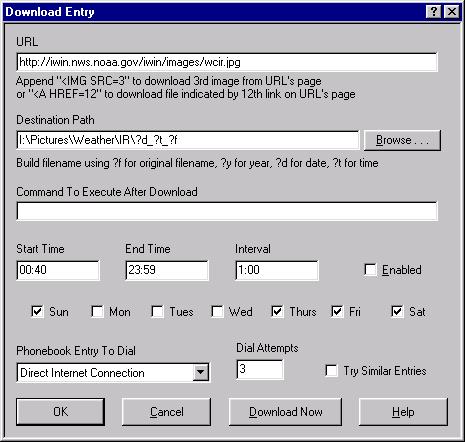 The main configuration window, shown below, is where entries are added, enabled, disabled, deleted, etc. They are controlled by right clicking on them in the entry list. A context menu provides the necessary functions. The program runs as an icon in the system tray on your taskbar and is controlled with a popup menu from that icon.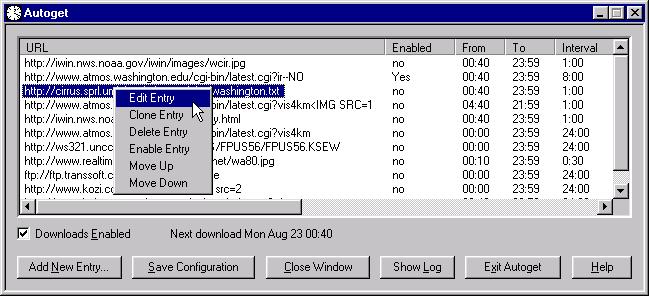 Download Autoget and try it for 90 days. If you like it, use our contact page to request registration. After downloading, simply run the self-extracting archive to install it.
If you would rather extract the archive yourself, it can be opened with WinZip. Run the Setup program after extracting the files to a temporary location.
---
System Requirements:
Windows 95 or newer
Internet Explorer 4.0 or newer
NOTE: You must have dialup networking installed, even if you don't use it, so the required DLL's will be present on your system.
---
Return to SynapseSystems home page